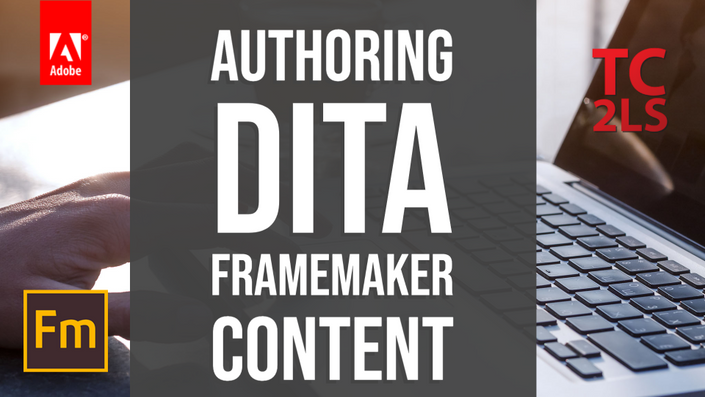 Authoring DITA Content in FrameMaker
Learn to create and edit DITA content using Structured FrameMaker
Jan 6, 2022
COURSE IN DEVELOPMENT
I am currently recording the lessons for this course, and the course will be fully completed by the end of February 2022, and very likely sooner than that.
This has been my #1 most requested course for years, and I'm happy to finally have the bandwidth to build it up from scratch, using the concepts covered in my Authoring Structured FrameMaker Content course.
In addition to the two online deep dives at the end of the course, participants in the BETA will have the opportunity to participate in numerous live online sessions, where we will discuss the material, and refine what will (and will not) be included in the final course.

This is an excellent opportunity to see how FrameMaker and DITA work together, as well as understanding how online courseware is developed and delivered.
WHAT TO EXPECT IN THE COURSEWARE
While in beta, topic titles that start with [DITA] have been either developed for this course or are existing structured Fm topics that are appropriate for this course.
Topics will be developed and released in the proper order of completion. The base course contains approximately 40 topics, meaning (on average) you can expect about 5 topics per week to be released in order to meet the projected end-of-Feb completion date.
This course does not yet include a DITA-specific workbook, but will have lessons laid out in the topics themselves. Participants will receive a printed workbook if and when published, but no publish date or timeframe is currently set.
I hope you can join us for the beta...I'm quite excited to get this project completed!
-Matt Sullivan
This course teaches you how to create and edit content using the DITA structured content model in FrameMaker.
Two of the topics are available as a free preview. The first is some basic info related to selecting text, and the other is further down in the course (expand the course syllabus to see the full list of topics) and shows you how to manage your electronic cross-references.
These two topics give you a sense of the detail and quality of the course material.
Your Instructor
Course Curriculum
Before you get started
Available in days
days after you enroll
General
Available in days
days after you enroll
This course, FrameMaker, structure, and what it all means
Available in days
days after you enroll
Frequently Asked Questions
When does the course start and finish?
Your course access starts as soon as you register, and continues for 45 days, giving you plenty of time to complete the course. Lessons are available 24/7, allowing you to decide when you start and when you finish. If you want to get up to speed quickly, expect 2-3 days to fully complete the lessons.
What if I am unhappy with the course?
I never want you to be unhappy! If you do the work and don't feel completely prepared to create and edit content in FrameMaker, I will work with you to get you up to speed or refund your course fee, at your discretion. If you think this course could be better in any way, please let me know at any time so I can address your concerns. As the product evolves, I regularly add lessons to this course to address new features and to include higher level topics that explain solutions I've developed for my clients.
I want a live class experience. What are my options?
You have two options for live training: (1.) The "Course+Class" option, which includes two Deep Dive sessions to allow for hours of live interaction and screen sharing (2.) You can contact me directly for live online and live in-person group training rates and availability
Is there a free version of the course?
Check out my free Introduction to FrameMaker course, graciously sponsored by Adobe.
I need to get up to speed quickly. Is this course right for me?
All the content that makes up my "traditional" 2-day FrameMaker course is marked as CORE in the lessons. If you're in a hurry to get going, you can easily move through the CORE lessons in two days or less. But don't be surprised if you also want to access lots of the topics marked OPTIONAL and TARGETED, so you may want to budget extra time for the more specialized content.